Davis, California
Davis is in the Central Valley of California, between San Francisco Bay and (very near) the state capital, Sacramento. For more information about Davis, see the Davis wiki.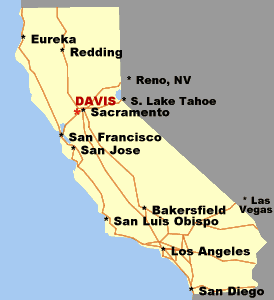 Conference Center, UC Davis
The ICSC 2017 will be hosted in the UC Davis Conference Center. The conference center is on the southeast side of the UC Davis campus, near the Mondavi Center, and between I-80 and the UC Davis Arboretum.
Please feel free to park vehicles in the South Entry Parking Structure, Lot VP 1 or Lot VP 2. Parking is $9, except for a few coin operated metered spots ($.25 for ten minutes). Weekday enforcement hours are 7 a.m.–10 p.m, Monday–Friday. Bicycle parking is free.
Friday Dinner, US Bicycling Hall of Fame
The conference's Friday night dinner will be located at the United States Bicycling Hall of Fame located at 303 3rd Street in downtown Davis. The Hall of Fame will have a special exhibit on highwheelers during the conference week.
Lodging
ICSC 2017 has partnered with three nearby hotels for discounted rates. Check-in and check-out dates are September 20 till September 23. Booking rooms for outside of this date window may invalidate the conference rates.
Hyatt Place:  For the conference rates, reservations need to be made by

August 22

.
Int'l Cycle Safety Conference Booking Link Use group code# G-U030.
Hallmark Inn: For the conference rates, reservations need to be made by

August 20

. You can call the Inn at 1(530) 753-3600 and refer to Booking ID# 2803. A reservation includes a complementary bicycle rental from 8am- 8pm.
Best Western University Lodge: For the conference rates, reservations need to be made by 

September 6

. You can call the Lodge at 1(800) 780-7234 or email them at custserv@cs.bestwestern.com and tell them you are with the ICSC.
Other hotels can be found via the Davis wiki.
Bicycling in Davis
Davis is the preeminent cycling city in the USA. It was the first city in the country (in 1967) to install bike lanes on city streets, motivated by similar infrastructure in Holland. It presently has by far the highest cycling trip mode share in the USA, with about 22% of all trips accomplished by bicycle. There are more bike paths and lanes per capita in Davis than in any other US city, because for 50 years the city has insisted on bike friendly new development, maintaining connectivity to the existing infrastructure. Davis was named as the first Platinum Bicycle Friendly Community by the League of American Bicyclists (LAB).
UC Davis
The largest employer in the city is the University of California, Davis, a public research university and one of the 10 campuses of the University of California system. It was recently named the most sustainable university in the world and enjoys an even higher bicycle use than the city at large, having also been named as a Platinum Bicycle Friendly University by the LAB.
Attractions in Davis
Attractions near Davis